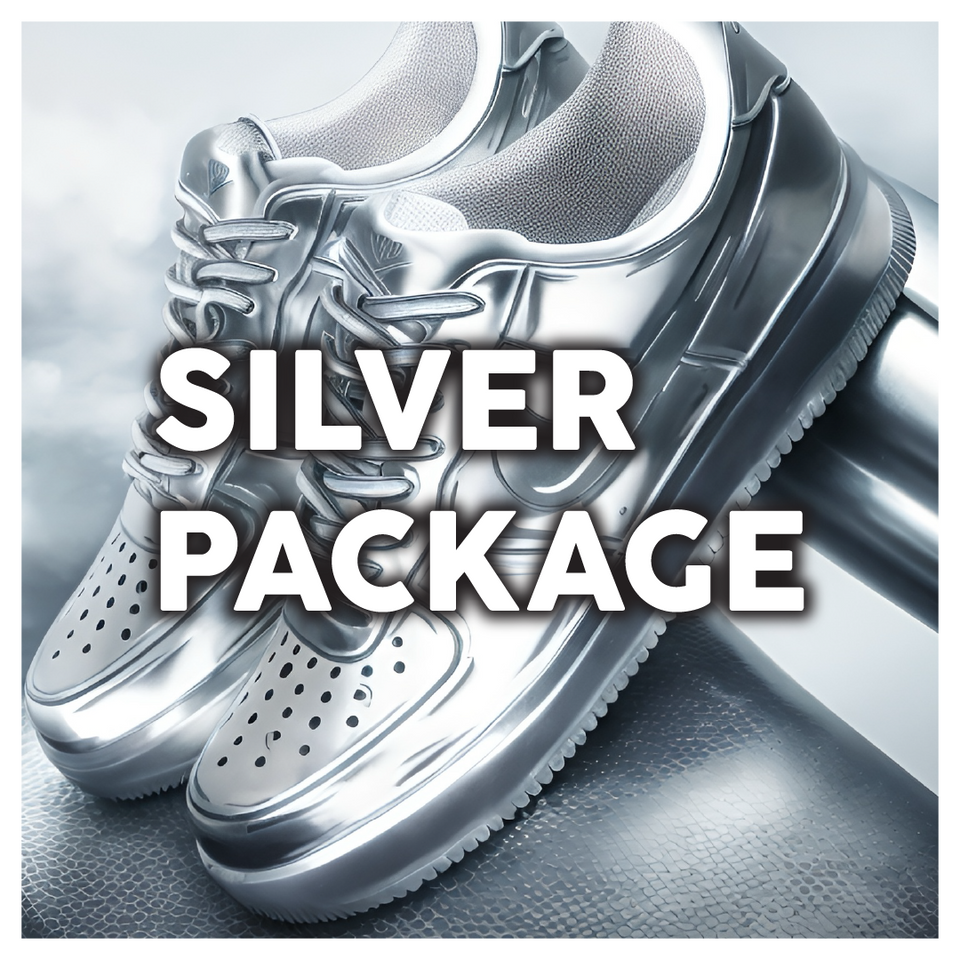 Silver Custom Package
SilverP
Book a 15 minute Consultation before purchasing service. 
Timeline: 4 Weeks
What's included:
Drip
Custom Acrylic Paneling
Custom Tongue Tag
Custom Laces (Flat or Rope)
Color Swap (painting)
Signed Mock-up Poster

 

Custom Eyelets

 

Two Spot Leather Panel Engraving

 
Introducing the Silver Sneaker Package – a premium offering for the discerning sneaker enthusiast. This package is for those who demand the best and aren't content with the ordinary. Whether you have your own shoes or need us to source them for you, our Silver Sneaker Package is designed to transform your footwear into a breathtaking masterpiece.
The Silver Sneaker Package comes with two price options. You can either provide the shoe and pay $500, or let Shoebaker source the shoe for you at a total cost of $825. Regardless of your choice, you can trust our skilled team to deliver a final product that surpasses your expectations.
Here's what you get with the Silver Sneaker Package:
1. Drip: The classic drip design is a fan favorite, adding a level of sophistication and style to your kicks. Our artists specialize in creating stunning drip patterns that instantly elevate the look of your shoes.
2. Custom Acrylic Paneling: We use high-quality acrylic to create custom panels on your shoes, giving them a unique, contemporary appeal. The acrylic panels can be transparent or colored to match your personal style.
3. Custom Tongue Tag: A custom tongue tag adds a personal touch to your sneakers, showcasing your unique personality. Whether it's your name, logo, or any design of your choice, our team will incorporate it into the tongue tag.
4. Custom Laces (Flat or Rope): Choose between flat or rope laces – whichever suits your style. We offer laces in various colors and materials, all designed to complement your custom sneakers perfectly.
5. Color Swap (painting): The color swap feature allows you to change the color of your shoes entirely or partially. Our team uses high-quality paint that's both durable and vibrant, ensuring your shoes look fresh for longer.
6. Signed Mock-up Poster: As part of the package, you receive a signed mock-up poster displaying the design of your custom sneakers. It's a perfect keepsake to remember the transformation of your shoes.
7. Custom Eyelets: To add more flair to your shoes, we offer custom eyelets. These eyelets can be of any color or design, and they'll surely make your shoes stand out.
8. Two Spot Leather Panel Engraving: This premium feature allows you to engrave two spots on the leather panels of your shoes. Whether it's your initials, a special date, or a symbol that means something to you, this engraving will make your shoes truly unique.
With our Silver Sneaker Package, you're getting more than just a shoe customization service. You're investing in an experience that includes top-of-the-line features and exceptional craftsmanship. Our team of Shoebakers is dedicated to ensuring that your shoes are not just a fashion statement but a reflection of you. So why wait? Elevate your sneaker game with the Silver Sneaker Package today!